I did a corned beef last weekend, that I just need to tell you about. But first of all, yes, I know, I am a week early! St Patty's day is this weekend.
Anyways, what I did was buy a couple slabs of corned beef, and threw them on the smoker for several hours. Once the color looked good, I brought the slabs inside, and threw them in a large pot of boiling water. I boiled them for about 2 3/4 hours in the water. At that point I deemed the corned beef tender enough, pulled them out and put them in the fridge.
The next day, Monday, I took a big chunk into work, and shared it with the guys. They loved it. They were all over me, how did I do it? They acted like it was the best corned beef they've ever had in their life. It kinda took me by surprise.
So I figure if I'm onto something that I don't know about, I'd better share it with you guys.
I'll dig out the photos I took last weekend and share them in a bit.
Hey, this could be something good to do on the 4th of July, or Labor Day, or Memorial Day, or on MadJacks birthday, you get the idea...
Mike...
Okay here's the pics... I should have taken one when I was slicing it.
Here it is on the smoker...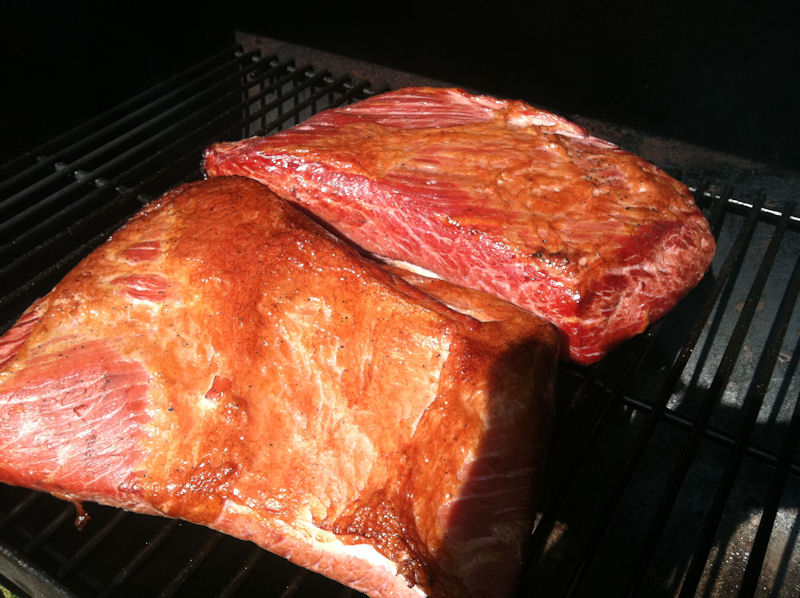 and here it is in the water...