Actually, this week I have been hearing the term "Friendsgiving" to describe the meal with friends instead of the usual extended family. My BFF has been avoiding Thanksgiving with her highly disfunctional family for more than 25 years by volunteering for extra shifts (yes, she has always done shift work, but it is pretty well-paid shift work now, all these years later), so I knew she would be working on Thanksgiving day. I invited her over tonight instead.
Even with the teen twins, we really only needed a modest meal for 4, as BFF and I have both had bariatric surgery in the past and have, as the kids say, "tiny tummies." I decided to take advantage of that, and cooked a duck instead of the modern tradition of turkey. We also had broccoli casserole (the kids were disappointed that we didn't have Brussels sprouts, but they also like broccoli--no, really, I'm not joking!), crispy potato fans (fancy baked potatoes), sweet potato turkeys (thinly sliced SP, cut out with a turkey cookie cutter and roasted), green chile pumpkin bisque served in the roasted pumpkin shell (it was a blue pumpkin with lovely dark orange meat), and finally mini pumpkin pies with pumpkin pie spice whipped cream.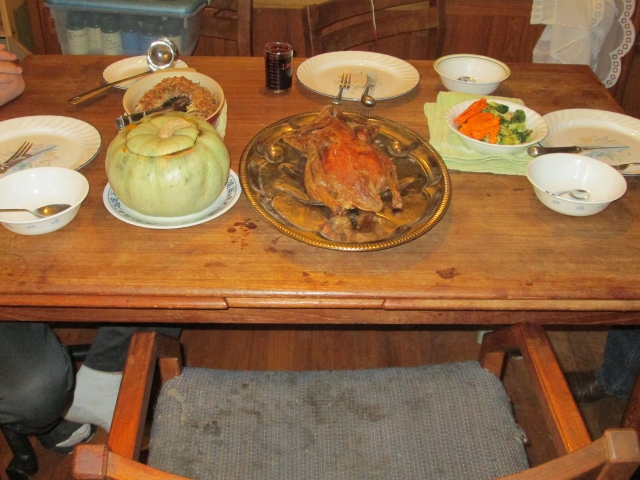 BFF is the queen of camp cooking, and except for the pies, she has cooked everything on my menu over fire and coals in a camp somewhere (while wearing a Spanish Renaissance costume, usually). She introduced me (and the twins) to duck, but this is the first I have ever cooked it by myself. I had to do a good job! Fortunately, with a recipe from Alton Brown's Good Eats, it was a success! I steamed the duck first to render off some of the fat, then finished in a hot oven to crisp the skin. Oh, yuummm! Better than crispy turkey skin any day! DS filled up on potatoes (and pie!), but DD and BFF and I picked over the carcass until there was nothing left!
My two fails? Well, I went into it knowing the kids are not big fans of soup, unless it's chile. I tried to get by that by making green chile pumpkin bisque instead of the more common curried pumpkin bisque. Nope, they assured me it tasted great, and DD had been really looking forward to trying the soup served in the pumpkin itself, but they didn't finish it. That's okay, I'll have soup for lunch tomorrow and Friday at work. And I forgot to make dressing. No one noticed that except me, as I could make a whole meal of dressing.
The kids and I have never really done a Thanksgiving in our own house. Sad to say, as they are already 13! But with first my grandparents in town (until the kids were 4), and then my mom and step-dad and my uncle (mom's younger brother) and aunt also here (and for the last few years my cousin and her husband since they have the biggest dining room!), we have always bundled into the car and headed off to someone else's table on the big day. Anyway, this was really fun!
But I ate too much and drank just enough.
Happy Friendsgiving!
Catherine