We sold out teardrop to a nice couple who have a dog that fits the kennel perfectly and also love to cook...a perfect fit! Thus ends an extremely enjoyable four seasons of teardrop camping!
We've got grandkids now, so we're moving over to the "dark side" and buying a Grand Design Imagine XLS 17MKE travel trailer. We bought a 1/2 ton truck last week and will buy the Imagine soon. I cut down trees for a parking spot and the stumps are ground. We decided to list it early even though official camping season is over on Monday.
We built the teardrop in spring 2016 and took a "money-is-no-object" approach. We store it in our garage except when we're out camping. The following pictures show the end product of this spectacular teardrop camper build. We're including the 9' by 11' custom-sewn galley tent, Thetford portable toilet, a Lodge 5-quart cast iron dutch oven, and a custom-fitted set of high quality sheets.
Red just screams "Look at me!"
We've towed it with a Forester (20 mpg) and a Cross Trek (up to 25 mpg) with no problems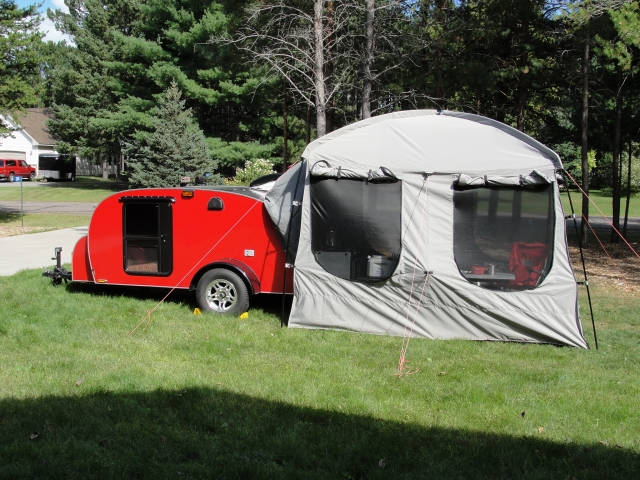 The galley tent makes teardrop camping so much more enjoyable when there are bugs, wind, cold, or rain.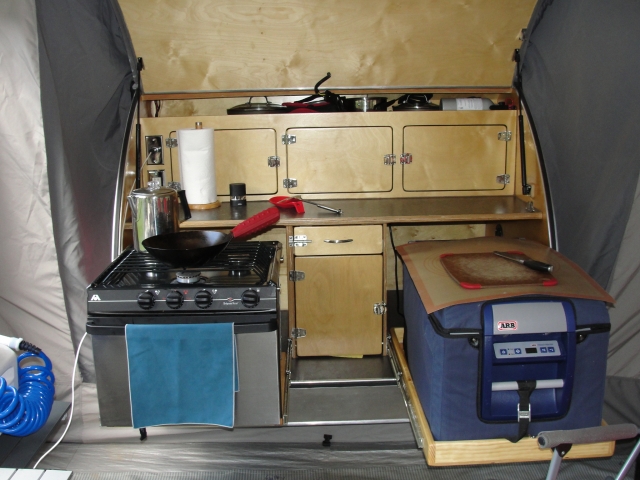 Galley is full featured with an Atwood stove/oven, an ARB 63-quart electric cooler, and an abundance of useable storage.
We have room for this 4' by 28" table, an end table with a 5-gallon sprayer, and a portable toilet.
It's nice to hang out on comfortable chairs with all the windows open.
The cabin has a dog kennel that can easily be used for storage, air conditioning, sliding tray under kennel, and storage under the air conditioner.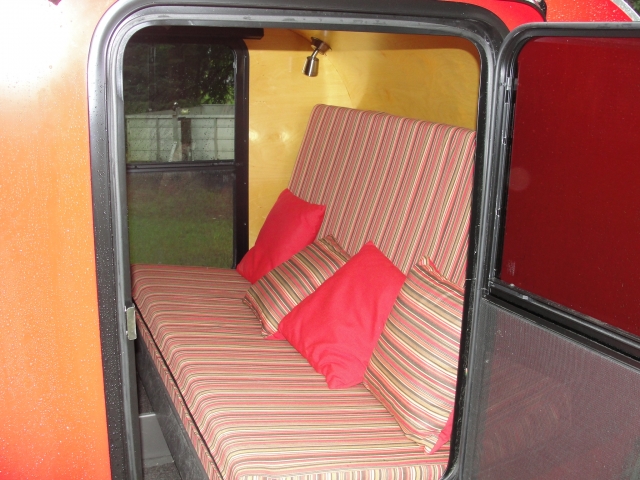 A unique feature is the futon sofa/bed. We used high quality foam and Sunbrella fabric. Notice the 6" basement that provides extra storage and positions your legs at a normal height when seated on the sofa.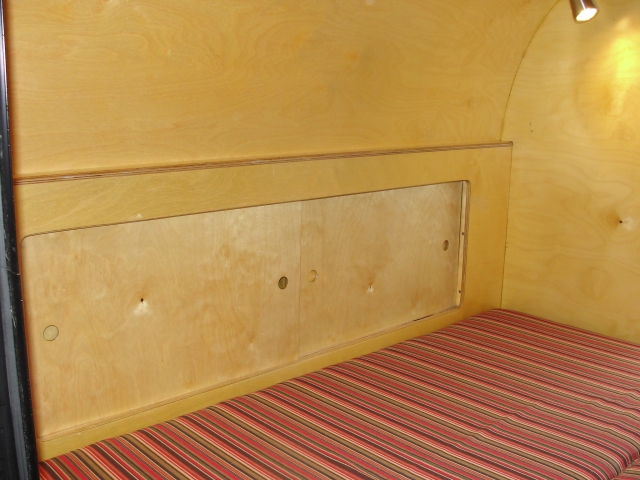 Access to the "storage bump" is through these sliding doors.
There are storage cubbies on the top and deep storage below.
The storage cubbies hold an amazing amount of clothes if you roll them first.
https://youtu.be/UsZV1qw3w-k
Check out this YouTube video that describes the teardrop and the galley tent in greater detail.
For more detailed information on the build, look for "Dusty Mark's 5 x 10 Build" or "Fabricating the Ultimate Galley Tent" in the Build Journal section of this site.
We've also listed the teardrop on RV Trader and on Minneapolis Craigslist if you want to contact us through those means. We look forward to hearing from you as a prospective buyer and second owner of our 5' x 10' teardrop!