My wife and I spent 6 days (August 17th - 22nd) at the Priest Hole Recreation Area on the John Day River in central Oregon to see the eclipse. We were directly in the path of totality.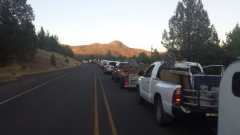 Just getting there, the traffic was horrible. Took 5 hours to go the last 30-ish miles because everyone was trying to get to some music festival we weren't even interested in going to, but it backed up the road for miles. Finally got there at about 11 at night; we unpacked the trailer and went straight to sleep.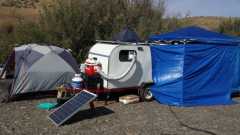 Set up our campsite the next day.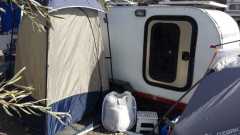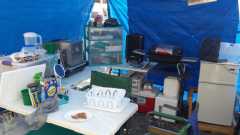 The kitchen. I guess we're roughing it with style?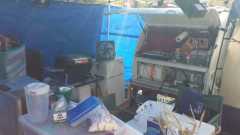 A guy in a motorhome smelled us cooking and said we brought more stuff in our little teardrop than he had in his whole motorhome.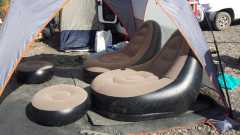 What campsite is complete without a lounge?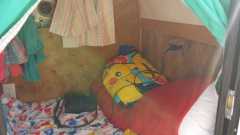 Despite its small size, we have pretty much everything we need inside the trailer.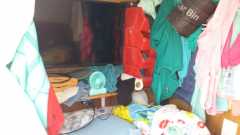 And right over the hill is the John Day river.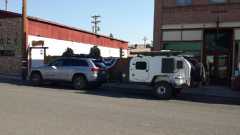 Saw this hard core teardrop while out exploring the town of Fossil.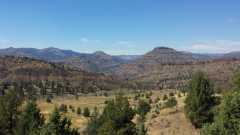 This must be where all the western movies are filmed.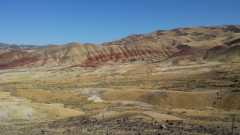 John Day National Monument - Painted Hills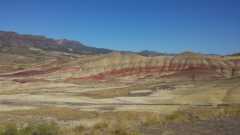 John Day National Monument - Clarno Formation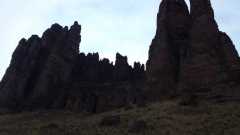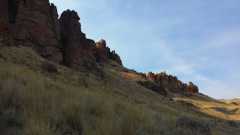 John Day National Monument - Sheep Rock. There is a very cool paleontology museum here, but I forgot to take any pictures.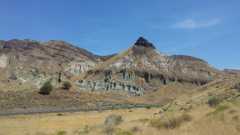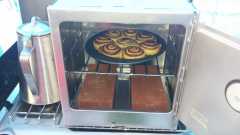 We ate very well. Cinnamon rolls...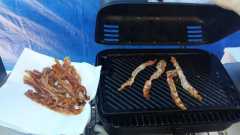 ...and bacon...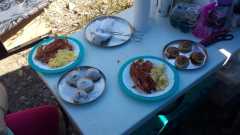 ...are part of a complete breakfast!
Slow-cooking beef with solar power, because we can!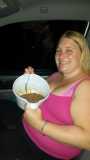 We had to eat the stew we made in our truck, though, because there were so many bugs outside. We had Citronella candles but they didn't do anything
We also used it for BBQ shredded beef sandwiches.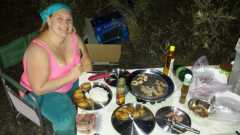 Yes, that's Korean BBQ.
And fried chicken sandwiches.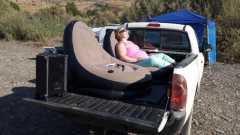 But of course the main reason we were here was the eclipse. The best seats in the house were inflatable, and in the back of our truck.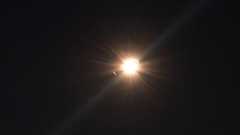 Watching the moon slowly block out the sun, listening to Dark Side of the Moon. Like a boss.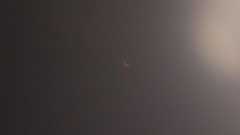 Almost there.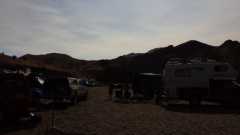 Getting very dark, and a little chilly.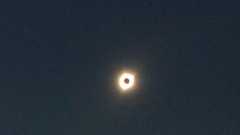 Totality!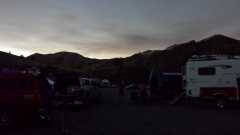 Twilight in the middle of the day.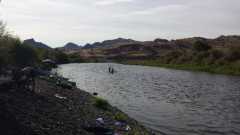 While everyone else was packing up to leave, we had one more day so we finally decided to enjoy the river.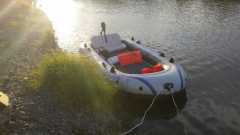 Finally got to test out our boat (it survived!)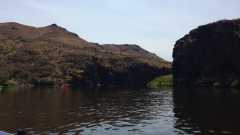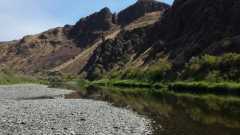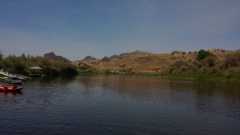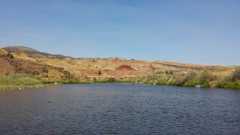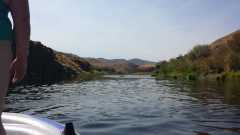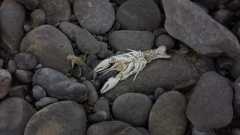 I thought it was dead, but apparently that's just the skeleton they leave behind when they shed their skin.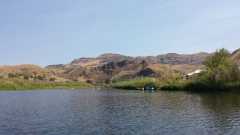 Of course, we couldn't just leave without getting a flat tire the last night...
Patched it up and decided to make one last stop on Mars before heading home...