15 fresh curry leaves, chopped
1 tablespoon ground cumin
1/4 teaspoon cayenne
1/4 teaspoon turmeric
2 teaspoons garlic ginger paste
2 tablespoons butter or coconut oil
1 teaspoon brown mustard seed
2 tablespoons white rice
3/4 pound green beans, trimmed and cut into pieces
1 teaspoon salt
1. Put 1/3 of the curry leaves and put into a medium bowl. Add cumin, cayenne, turmeric and garlic ginger paste and mix well.
2. Add water (about 1/2 shot glass) to above mixture, then set aside.
3. Heat butter or oil in a large skillet over medium heat. Add mustard seed and rice and fry until mustard seeds pop, about 2 minutes. Add remaining 2/3rds of the curry leaves.
4. When leaves have crackled but are still green, about 30 seconds, add green beans, salt and 2 tablespoons of water and stir to mix well. Cook and cover, stirring often, until beans begin to soften yet are still slightly crunchy, about 5 minutes.
5. Add mixture to green beans. Add another 1/2 shot of water, mix well, cover and simmer for an additional 3 minutes. Serve with chili and rice if desired.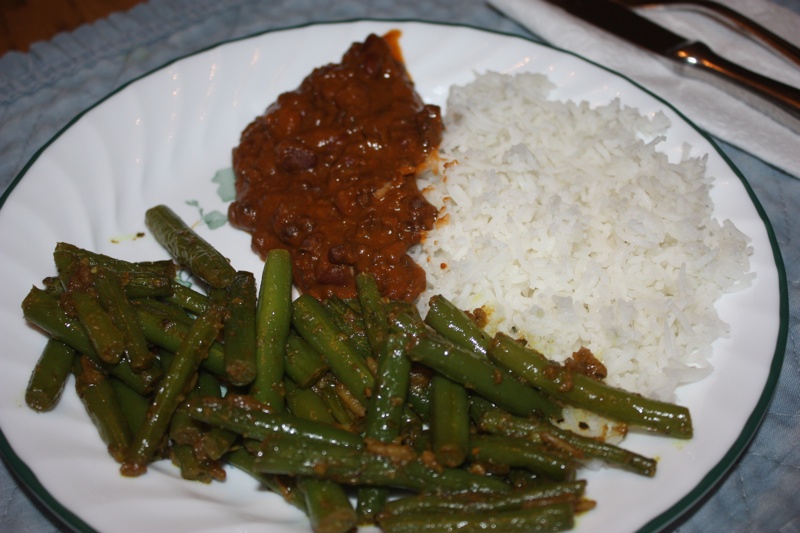 Mike...