Basic design calls for full size fold down Murphy bed with dining table that folds down from bottom of bed when in upright stowed position along with spacious kitchen and bath area. I have created a number of layouts and played with various trailer widths ranging from 7' to 8.5' wide. I currently think a 7.5' width would be the minimum with 8' wide likely being the sweet spot to provide passage and avoid feeling too closed in. There are many mechanical issues with each of the designs which I have given alot of thought to, but the layouts shown are my two best options to date. The front bath design leaves the rear area open to all living space with rear door leading out to a fold down platform (cargo rear ramp) as a patio (not shown in layouts), Tub size is 36' x 24". This layout also provides an area in the front v-nose between the tub and the side entry door for all mechanical equipment.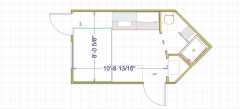 The rear bath design provides better space in the kitchen area and larger bath/shower (4' x 24" tub shown in the attached layout). The rear bath door swings to close off the bath area with access to the rear door/patio ramp but can be closed off to provide a bath area of about 8' x 4' total area with is really nice and big. Mechanical equipment would have to be located in the kitchen/v-nose cabinets.
My designs are not in sketchup (haven't learned to use yet); I currently use MS Visio and do 3d in Chief Architech. The attached PFD file includes the basic layouts and 3d shots from Chief Architech program.
I am currently leaning toward the front bath layout at the moment, but keep mulling over the various designs searching for the best of the best while trying to stay with a small 12' body + v-nose.